Jose D'Angelo's Bio
ABOUT US
---
I n just his first full year of training in the United States, Jose D'Angelo made his way into some of the most prestigious Thoroughbred races in North America.
The former leading trainer in Venezuela, who ventured to South Florida in 2019, demonstrated exceptional horsemanship with Grupo 7C Racing Stable's Jesus' Team, who won a $25.000 claiming race at Gulfstream Park in his first start for D'Angelo in May 2020 and went on to compete against the best horses in the country while finishing third in the Preakness Stakes (G1), the Middle Jewel of the Triple Crown at Pimlico, and finishing second behind Knicks Go in both the $1 Million Breeders' Cup Dirt Mile (G1) at Keeneland and the $3 million Pegasus World Cup Invitational (G1) at Gulfstream Park.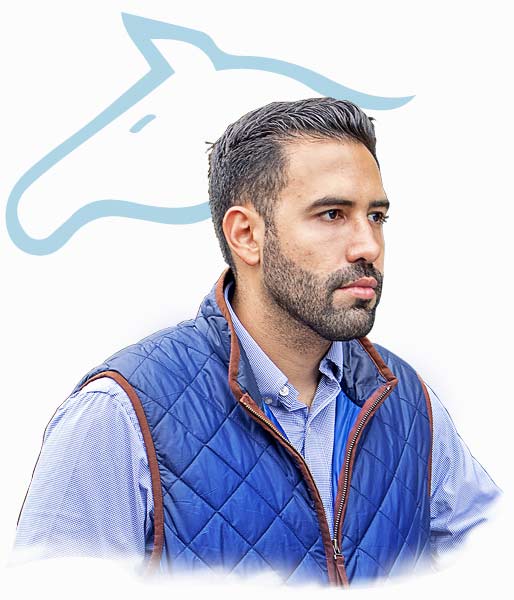 J ose, who took the opportunity to get acquainted with the U.S. racing scene by personally driving Jesus' Team from track to track, had Big-Race experience in Venezuela to fall back on.
In 2014, Jose saddled Dreaming of Gold for a victory in the Clásico Simon Bolivar (G1), becoming the youngest trainer to saddle the winner of Venezuela's most prestigious race.
Born in Caracas April 17, 1990, Jose grew up in a Thoroughbred racing family, the son of trainer Francisco D'Angelo, the leading trainer in Venezuela on multiple occasions, and the grandson of a prominent Thoroughbred journalist. After attending university to study business administration for two years, D'Angelo dropped out to pursue a training career with his father's blessing.
Jose experienced a full range of emotion at La Rinconada after saddling his first starter at the end of 2012 – the joy of watching Dasha cross the finish line first quickly turned to disappointment upon Dasha's disqualification. His spirits were quickly lifted when he saddled his first official winner with his third starter, Queen Norma, at La Rinconada.
Jose went on to enjoy continued success and achieved his goalof becoming the leading trainer in Venezuela in 2018.
---

---
"It was my goal. After that, I moved to Florida," said Jose, who joined his father, who had ventured to South Florida in 2015 to resume his training career. "To come here was always my dream."
Jose, who had saddled Forze Mau for a second-place finish in the Copa Velocidad on the 2017 Clásico del Caribe undercard at Gulfstream while based in Venezuela, saddled his first horse since relocating to the U.S. at Gulfstream Park June 8, 2019, when Cocktail Skirt came up a nose short of victory while finishing second in a $12,500 claiming race. He broke through with his first U.S. victory with his third overall U.S. starter, Beach Dreaming, whom he had claimed out of a $12,500 claiming race and went on to score at the same level June 27, 2019.
Jose's stable is based at Palm Meadows Training Center, Gulfstream Park's satellite training center in Palm Beach County. While he is a relative newcomer to South Florida, Jose has become an established trainer at Gulfstream and has gained invaluable experience while training alongside such prominent national trainers as Hall of Famer Bob Baffert and 2020 Preakness winner Swiss Skydiver's conditioner Kenny McPeek during his memory-filled travels with Jesus' Team.
"I would like to be a great trainer in this amazing country and have great horses to run in the big races," Jose said. "The experience I lived last year was the best in my life, for sure."Ed Gray
---
Contact us : +1 (305) 433-0464
---